Product information "NCAS500MP"
The new NCore Active Speaker (NCAS) modules are specifically designed for application in an active speaker design. The modules feature two onboard NCore amplifiers: a full bridge high power channel and a half bridge medium power channel.
The NCAS500MP amplifier module incorporates a low power standby power supply (meets 2013 ERP Lot 6
0.5W requirements), a highly efficient switch mode power supply and a high-performance Class D amplifier in one compact and easily applicable power brick.
Chief distinguishing features are flat frequency response irrespective of load impedance, nearly frequency
independent distortion behaviour and very low radiated and conducted EMI. Control is based on a phase shift controlled self-oscillating loop taking feedback only at the speaker output.
For applications requiring a standby mode, a low power standby SMPS also has been integrated into this
product. To achieve universal mains input compatibility this SMPS features an automatic input voltage
doubler.
APPLICATIONS:
Monitor loudspeakers for recording and mastering studios
Public address systems
Active loudspeakers
FEATURES:
Two channel amplifier
5W standby SMPS
Advanced over current protection
External controlled operation
Auto-switching (115/230V)
HIGHLIGHTS:
High efficiency
Universal mains operation
Flat, fully load-independent frequency response
Low output impedance
Very low, frequency-independent THD
Very low noise
CONTENTS OF PACKAGING:
NCAS500MP OEM module
Manual
| | |
| --- | --- |
| Power (2Ω): | Not supported |
| Power (4Ω): | 440W + 120W |
| Power (8Ω): | 400W + 100W |
| Channels: | 2 |
| Technology: | NCORE® |
| Family: | NCORE® Active Speaker Family |
| Automatic input voltage selection: | Yes |

Recommended additional parts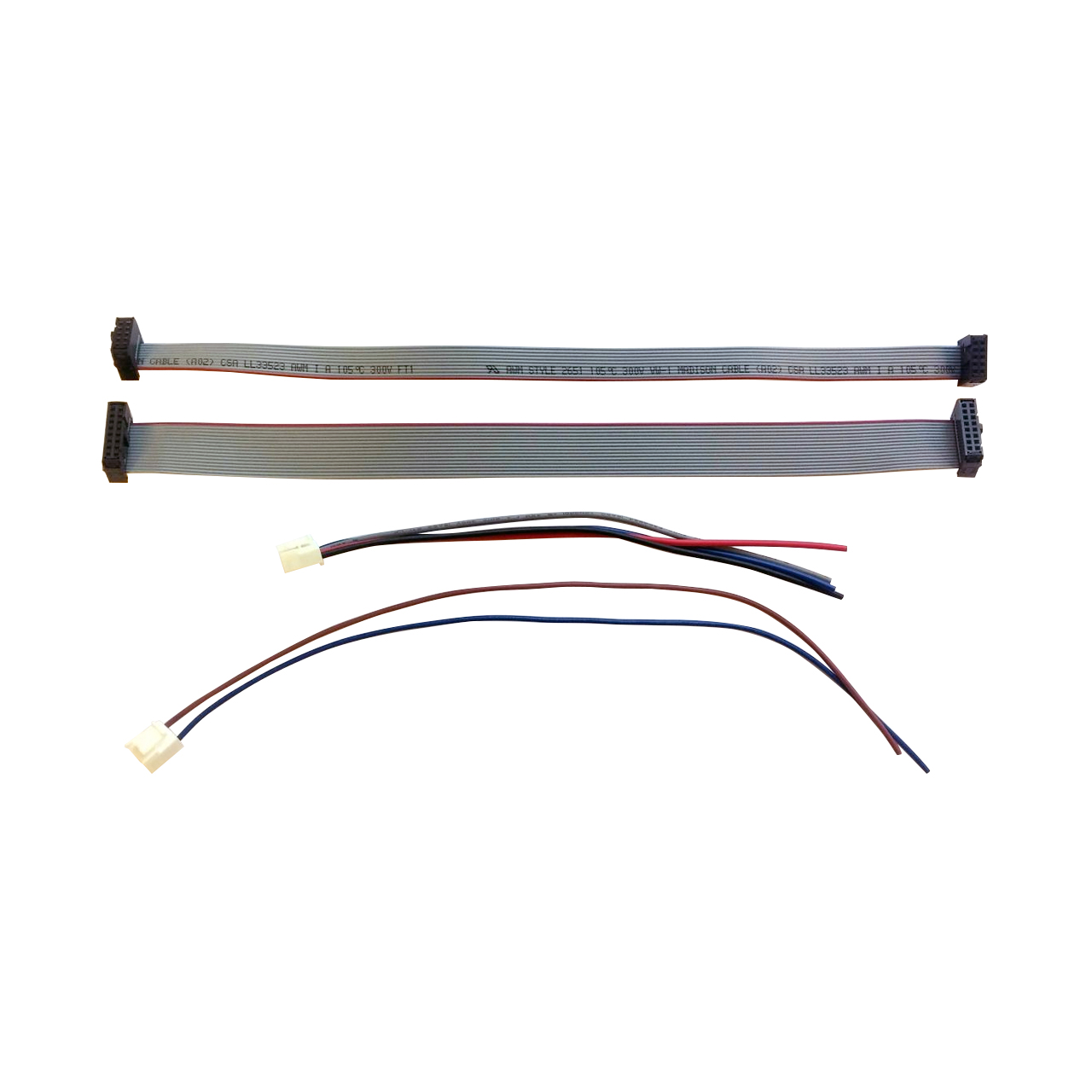 Cable set NCxxxMP
The Cable set NCxxxMP is a complete cable set to connect the NCxxxMP amplifier to your application. Note: For the connection of the NC100HF please refer to the "Cable set NC100HF". NCore signal cable not included and not needed with the NCxxxMP amplifier range.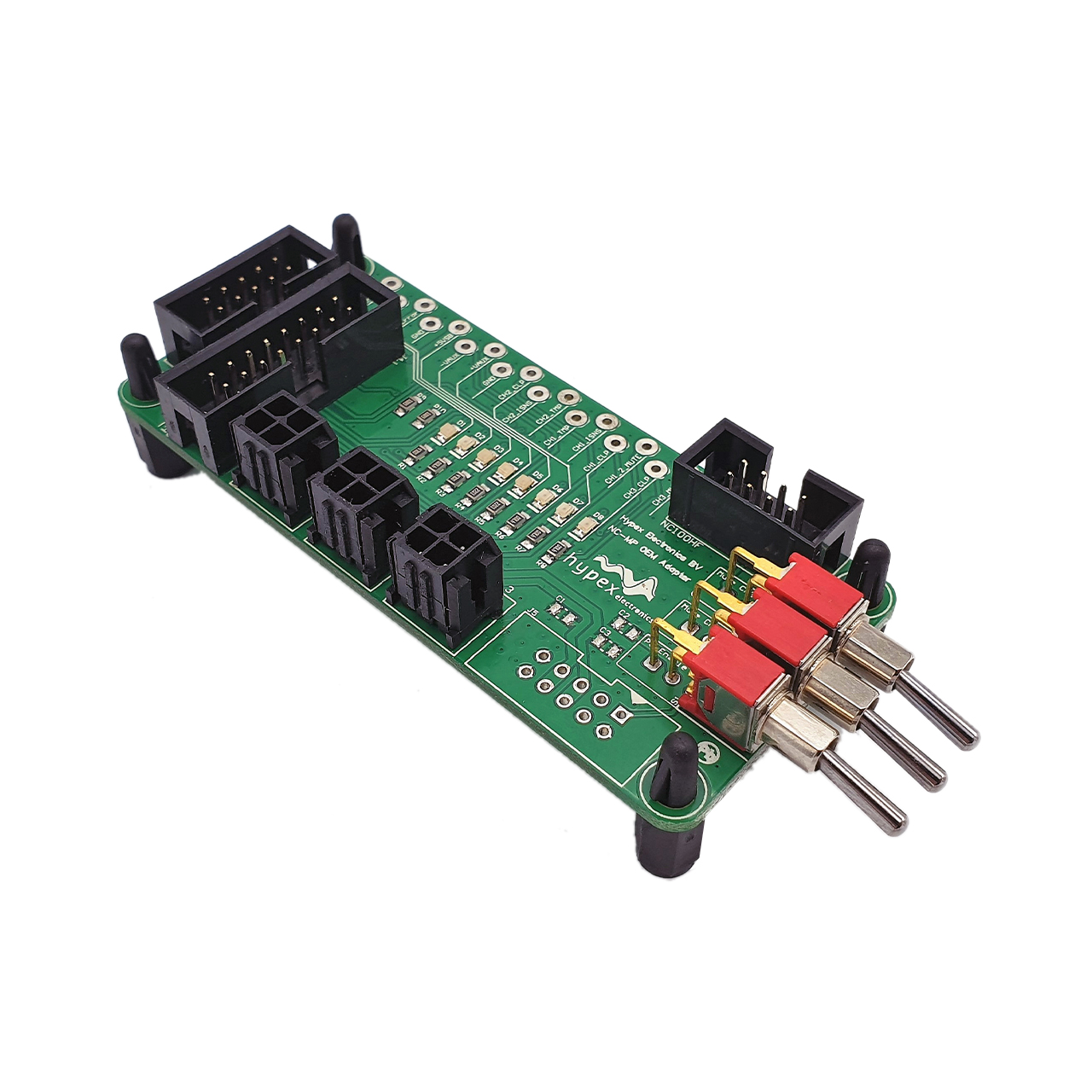 NCxxxMP Evaluation board
This board is specifically designed to make it easy to evaluate the new NCxxxMP series mains powered NCORE modules. Furthermore, the NC100HF can be easily connected. All necessary control IO's and supplies are easily accessible via test pads for evaluation. The evaluation board comes with 10mm nylon spacers which can be used to mount the board using M3 screws. All necessary interface cables are included. The signal, speaker and mains cables are open ended, meaning that you are free to connect it in with your own connectors in your own way.Note: the XLR connectors in the picture are for example only and not included.Features:Makes it easy to evaluate the NCxxxMP series with the optional NC100HFPS Enable switchCh 1-2 mute switch (also mutes ch3 by design)H-Box connectorH-Bus connectorNC100HF half H-Box connectorIncluded:A breakout PCB to quickly evaluate the NCMP seriesZ10A25L1 - 25cm 10 pole JST to interface between NC100HF and NCMPZ10C12L1 - 12cm 10 pole Hypex Bus ribbon cableZ16C14L1 - 14cm 16 pole Hypex Box ribbon cableZ8C10L1 - 10cm 8 pole Hypex Half-Box NC100HF ribbon cableZ2A20L7 - 20cm JST VHR-2N open ended NC100HF speaker cableZ4A20L7 - 20cm JST VHR-4N open ended NCxxxMP speaker cableZ4B50L2 - 3x 50cm NCORE Molex Microfit to open end signal cableZ2A30L1 - 30cm JST VHR-3N open ended mains connection cable
NCAS500MP Insulation sheet
Insulation sheet for the NCAS500MP. With this insulation sheet you can install the NCAS500MP in a safe way, the NCAS500MP cannot be mounted on a conductive surface without an insulation sheet applied.APPLICATIONSFor NCAS500MP only.HIGHLIGHTSSafe installation on conductive surfaces.